Project Second Chance at Woof Lodge
Help at-risk youth and abandoned dogs get their second chance!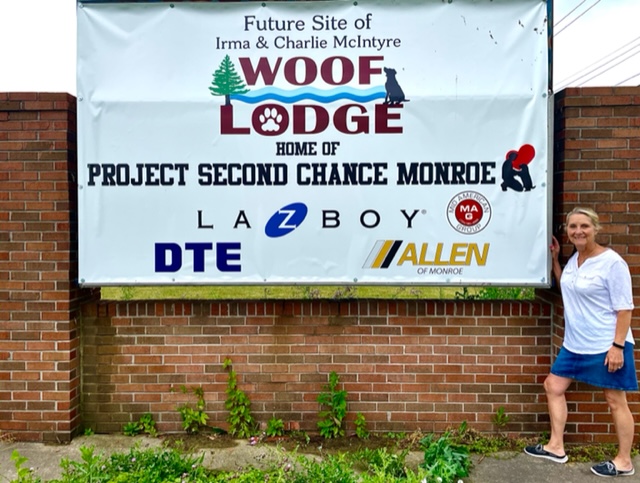 Funding from this campaign will help us create our new space at Woof Lodge and build the kennels, create the classroom, provided 3 computer stations, and purchase teaching supplies and dogs supplies. Your donations can provide the following:
$50 provides a bed for a PSCM dog
$100-provides funds to give a PSCM dog to a veteran at no cost
$250-Provides a scholarship for one abandoned dog for PSCM
$500-provides a scholarship for one at-risk youth to participate in PSCM
$1,000-builds one kennel for PSCM dogs
$5,000-provides a computer for certification classwork for youth
 $10,000-provides classroom furniture, teaching materials and instruction for PSCM youth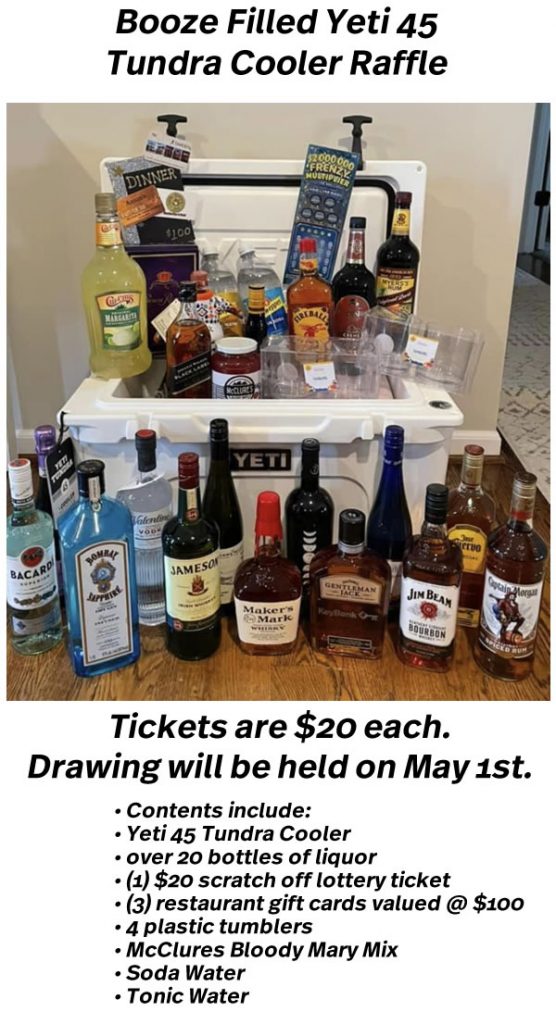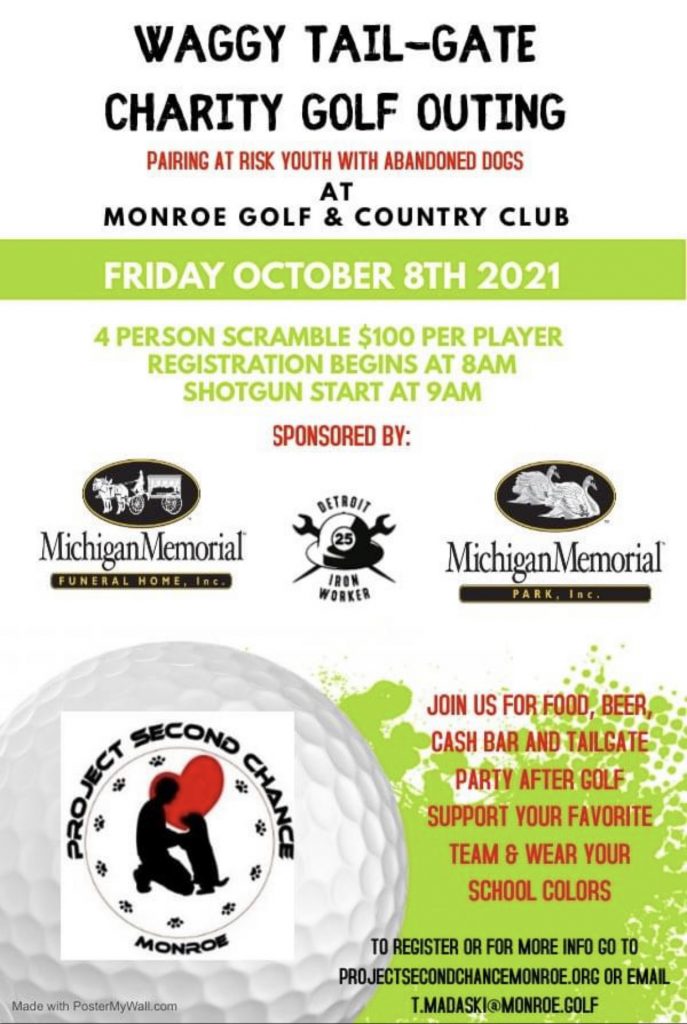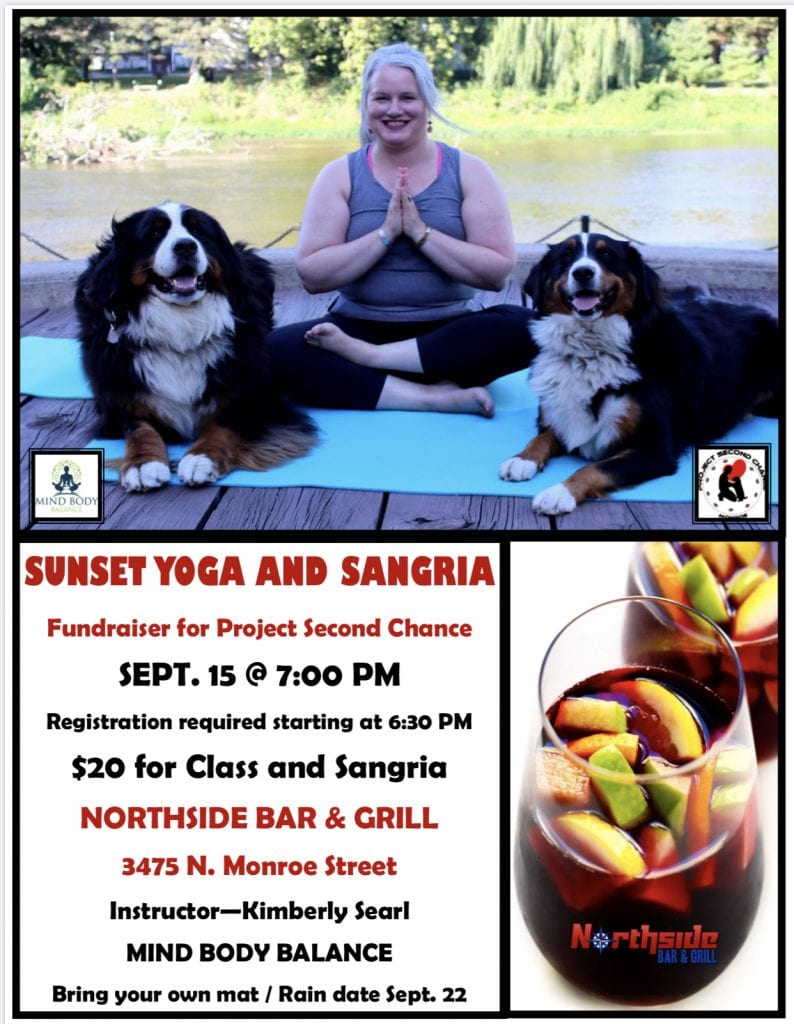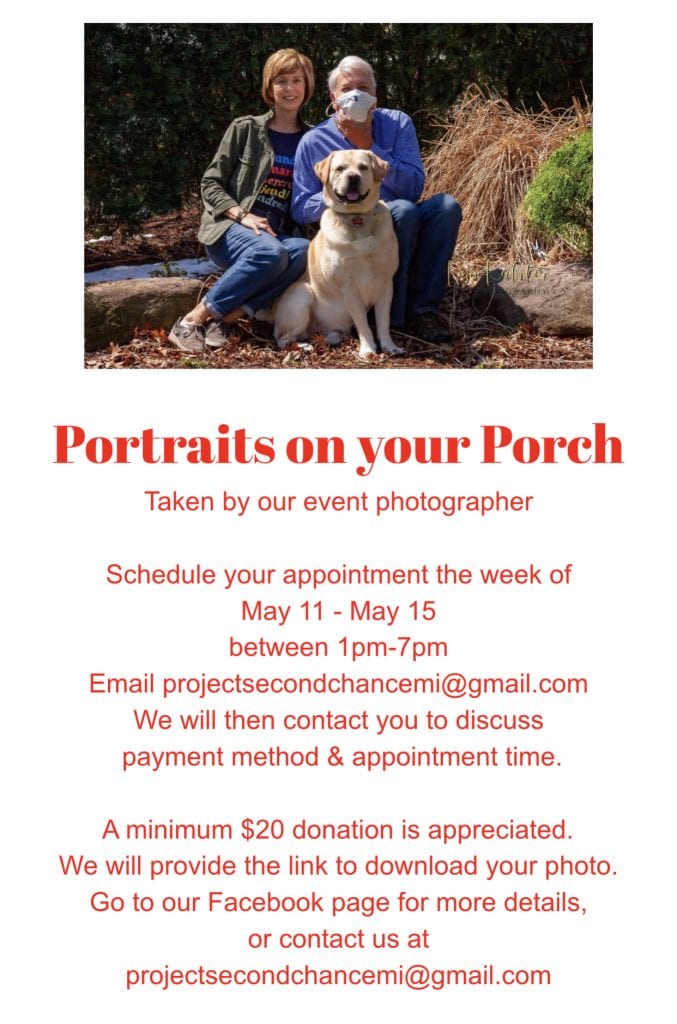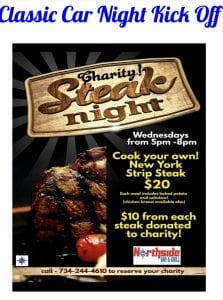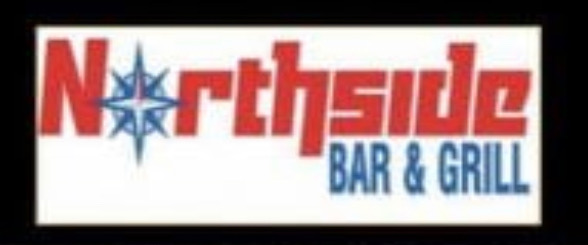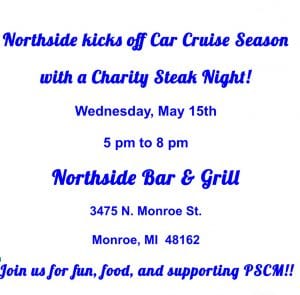 treats worth

HOWLING

about

"Howl About It Bakery"
doggie bake shop
is donating 10% of sales
to PSCM in December!!
Howl About It Bakery – www.howlaboutitbakery.com 
719 Chase Lake Rd // Howell, MI 48855
phone: (410) 980-0005
email: dogcookies83@yahoo.com
THEY OFFER SHIPPING!!
A perfect way to treat your furry friends &
support Project Second Chance Monroe….
Happy Howl-idays!
Come play with us!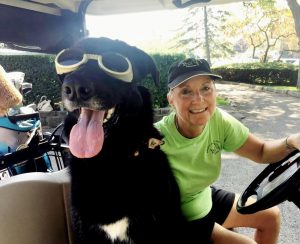 Golf for the Kids and Dogs
Saturday, September 22, 2018
Monroe Golf & Country Club
611 Cole Rd. Monroe MI 48162
18 holes w/cart + lunch+ fun + PRIZES !!!
50/50 RAFFLE * SILENT AUCTION
Register online www.whynotgolf.com/golfpscm
For more information or to become a sponsor,
email us at projectsecondchancemi@gmail.com.
Proceeds to benefit the capital campaign to help Project Second Chance Monroe
GROW and get our brand new doghouse
(aka new facility!)
We need a new dog house!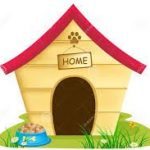 Come and help us kick-off our capital campaign
to build the new home of
Project Second Chance Monroe!
Friday, May 11, 2018
5:30 p.m.
Monroe Golf & Country Club
Cocktails ~ Dinner ~ Live Auction
$60 per person
Includes 2 drink tickets
Cash Bar Available ♦ Putting Contest ♦ Speed Painter
Reservations requested by Friday, May 4, 2018
 Sneakers4Funds
Sneaker Drive
The 6th grade class at Raisinville School is having a sneaker drive to help raise money to build our new kennels!
For every pound of shoes donated, Project Second Chance Monroe receives 70cents.
Sneakers4Funds also assists entrepreneurs and citizens in developing nations (ie. Haiti, the Philippines).
DO send shoes that are clean and in good condition, that are usable and wearable, that have laces intact.
DON'T send shoes that are dry or cracked, that are dirty or falling apart, or that have worn/cracked/breaking apart soles.
Please contact Marji for drop-off details. 734-241-4725
Dog-Walk
Backyard Carnival
Fundraiser
Saturday, April 21, 2018
11am – 3pm
Raisinville Elementary
Hosted by Mrs. Lynch's 6th grade class
at Raisinville Elementary.
 click 

H

ERE

 

for Pledge Sheet
For more information, email:
projectsecondchancemi@gmail.com, or
lynch@monroe.k12.mi.us
J. Trees Cellars Cidery and Winery sponsored Project Second Chance on this wine trail tour during summer 2016.
What could be better than enjoying some wine & helping rescue dogs? Not much.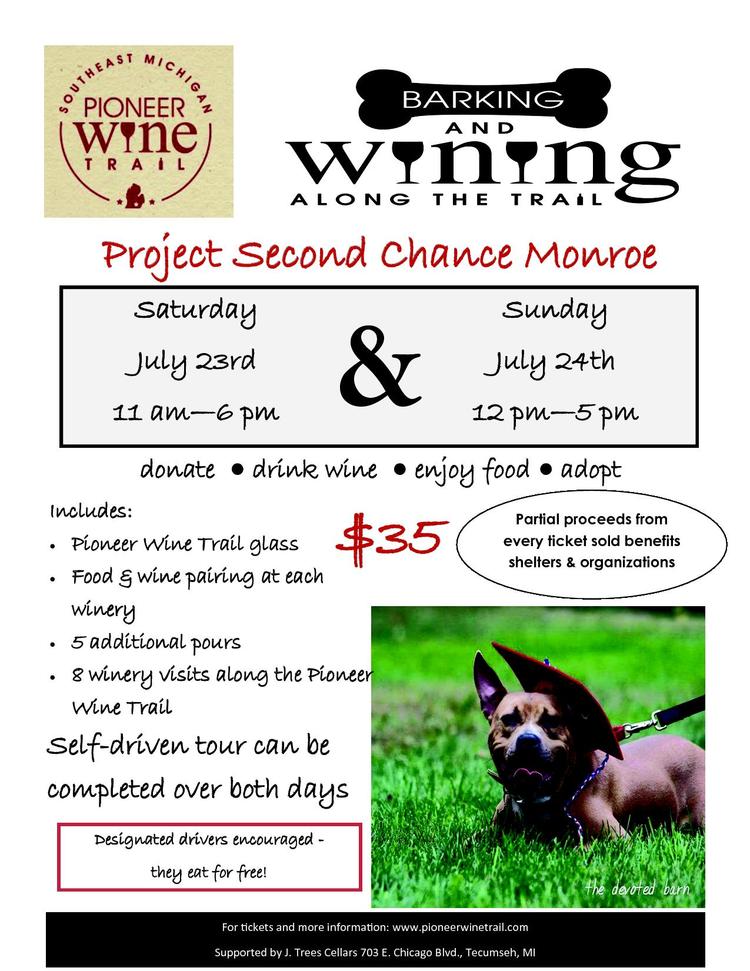 Christmas in Ida "Smooch your pooch" and Holiday Hounds on Parade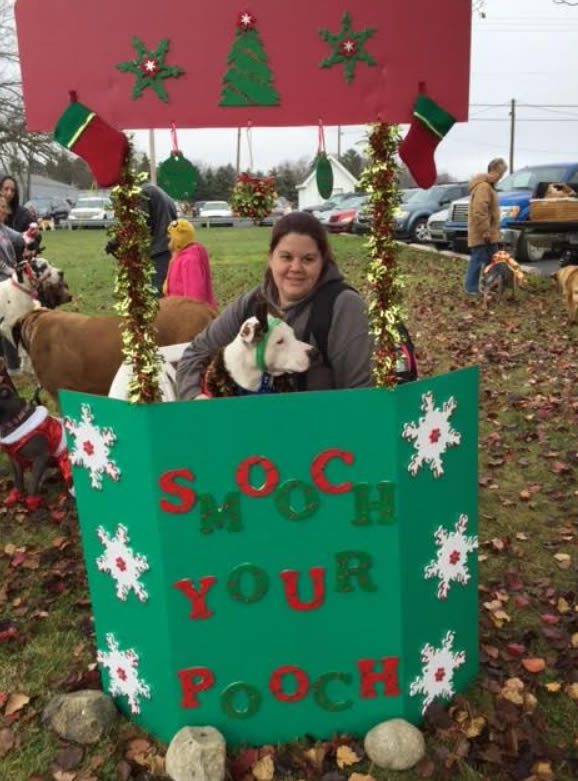 Join us for this annual event.  Visit christmasinida.com for details.
HELP PROJECT SECOND CHANCE BY WALKING YOUR DOG!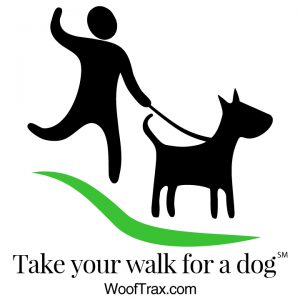 Project Second Chance Monroe has partnered with WoofTrax for this amazing opportunity. Download the "Walk for a Dog" app, available for free in both the Google Play and iTunes store, and choose Project Second Chance Monroe as your local charity. Every time you walk your dog, you start the app. When you're finished, you hit stop. That's it! Every time you walk, PSC gets a donation. It's a win-win situation! Visit www.wooftrax.com for additional info!
UNTIL TUESDAY

Iraq war veteran Capt. Luis Montalvan spoke with guests about his life with his service dog Tuesday at a fundraiser at Monroe Golf and Country Club September 27, 2013. Their story is told in the book, Until Tuesday.
Visit luisarlosmontalvan.com for more information.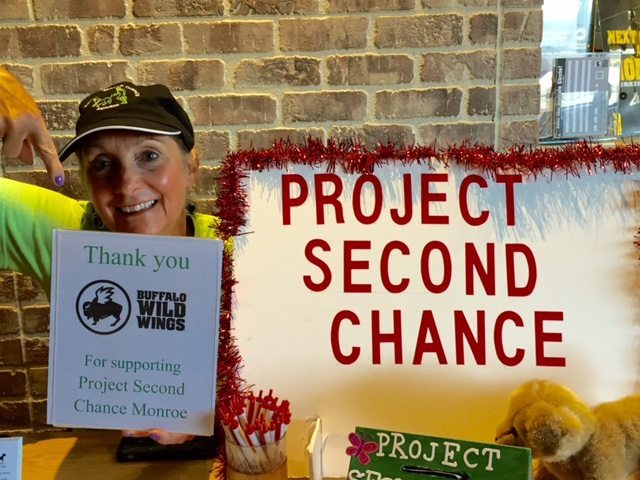 THANK YOU, BUFFALO WILD WINGS!
On Sunday, April 17th, PSCM partnered with the Buffalo Wild Wings in Monroe, MI to do a dine to donate event. We were also able to set up a table and tell people all about PSCM and the work we are doing. Thank you to everyone who stopped out and supported us!

Tails on the Trail

Amy Bacarella and her family met with other Tails on the Trail participants during a fundraiser June 27, 2010.  Walkers and their dogs raised pledges to enroll in the walk.